What happens if you stay true to yourself while you make contact?
In this one-day workshop, led by Sean Green and Juli Gabor, you'll get to explore the two movements of human connection: contact and withdrawal. You'll get to feel into yourself and play with verbal and bodily language to communicate your needs.
You'll get to experience and know yourself in new ways through a blend of exercises drawn from Radical Honesty and Contact Improvisation.
You don't need to have prior experience with these methods to join.
Radical Honesty is the verbal communication basis we'll use. You'll get to experiment with authentically expressing your emotions, thereby getting over them and connecting on a deeper level.
Contact Improvisation is the basis for our explorations into physical contact. We'll play with proximity and distance, touch, the boundaries of our bodies, and receiving and giving weight.
Body Awareness & Contact
In the workshop on the 18th September, we'll dive deeper into the body, focusing on body awareness and embodiment. We'll engage in sensing and moving practices that help you to feel and inhabit your own body more. Fully sensing the inner and outer movement of your body is the basis for getting into contact with other bodies, without "loosing yourself".
When you pay attention to what is happening inside of you, you can notice what your body likes and what not. This way you can feel your boundaries and learn to communicating them clearly. Moment to moment noticing and sharing the closeness and distance that you want is the essential skill for healthy relationships.
---
When?
Sunday, 18. September 2022
10:00–19:00 (Arrival from 9:30)
Next Dates: Sunday, 13. November 2022 (signup)
Where?
Yogastudio Yoga Vital
Kollmayergasse 14, 1120 Wien
Costs?
140€ (120€ early bird price until 18. August 2022)
Questions?
If you have any questions feel free to contact
Sean (me@seanspeak.net / +43 650 2424022) or
Juli (gaborjuli@gmail.com / +43 677 62992933).
This workshop is for you if you:
Want to practice saying Yes and No – with and without words.
Would like to expand your awareness: better sensing your body sensations and feeling your emotions.
Want to explore communication with language and touch.
Some questions we'll explore:
How can I connect with somebody else while staying connected to myself?
How can I feel and express my boundaries?
How can I communicate more honestly and authentically?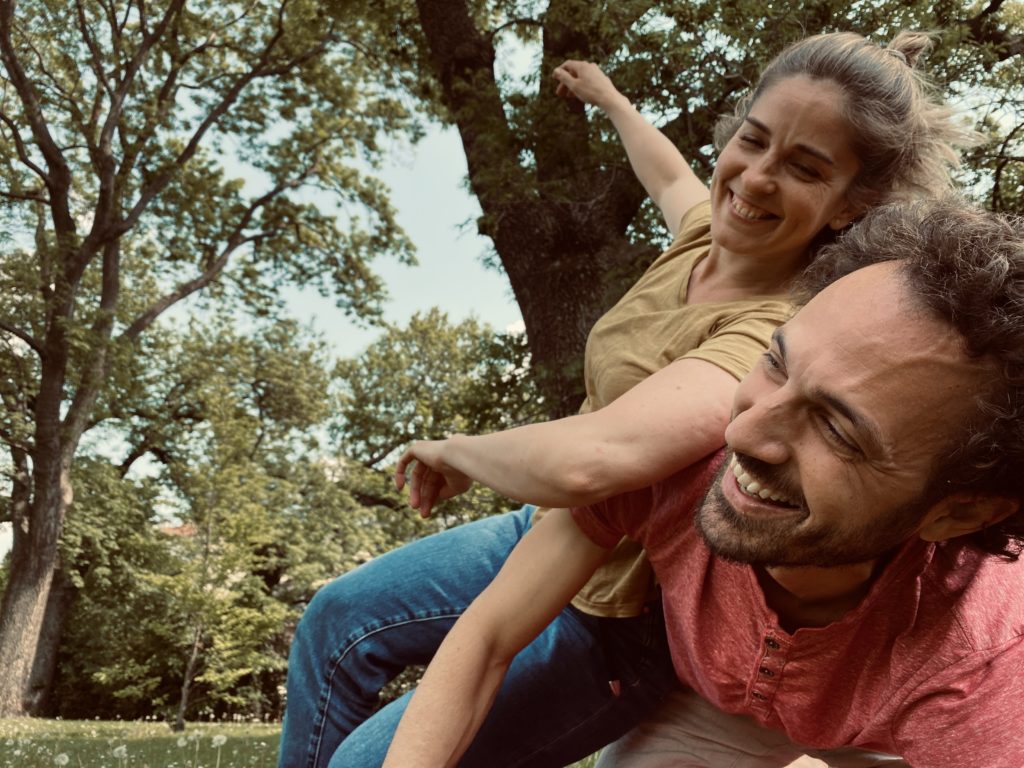 I liked the combination of radical honesty with contact improvisation – verbal communication with bodily communication. This was my first contact with Contact Impro and I absolutely loved it. I enjoyed the mixture of bodily and verbal communication throughout the workshop and had a great, connecting and funny time.

Christian Z.
Joining Radical Honesty & Contact Improvisation
I, Sean, love Contact Improvisation and Radical Honesty – two wonderful ways of communication and play. Yet I have found that both are lacking something that the other could add.
While practicing CI I feel deeply connected with my body and the bodies of my fellow dancers. then coming out of a CI Jam can often feel a little strange: somehow the strong connection from just before, seems to get overlaid by our disconnecting use of "everyday language". Radical Honesty to the rescue!: it's a wonderful way to create closeness through honest expression of what I am experiencing from moment to moment.
And I like to call Contact Improvisation Radical Honesty with the body. It is a way to explore and play with human touch, closeness, and distance, in the same authentic way, that we do with language in RH.
I, Juli, love Contact Improvisation and have recently discovered Radical Honesty – I immediately got fascinated by it. I have over 20 years of practice in CI, so I feel quite at home and free – I can just dive into it and make the best out of each dance, going for my needs and leaving a dance whenever I feel like it for whatever inner or outer reason.
Over the years I experienced that this is not always easy, especially with less experience or when self-awareness is lacking. In CI we immerse ourselves in touch, movement, and connection – we communicate physically, and we are used to it. But there is a lot that can happen during the practice: thoughts, feelings, triggers, and more. Although we sometimes do make space for reflection and sharing, I think we could do it more and having some tools for how exactly to elaborate, could be very, very useful – if not necessary! And here Radical Honesty comes into the picture: it teaches us how to express these experiences verbally.
I find the connection between CI and RH extremely exciting – it has a great potential for exploring how to connect to oneself and others.
---
Sean und Juli haben gut harmoniert. Die CI Übungen waren super um die Stimmung aufzulockern und haben sehr viel Schwung in die Gruppe gebracht 😊 Die RH Settings waren für mich eine ganz neue, aber sehr tolle Erfahrung… Die Kombination von Contact Impro und Radical Honesty ist einfach super.

Dominik P.
---
Your Facilitators
The Workshop is led by Sean Green and Juli Gabor.
Sean is a Radical Honesty Trainer Candidate, Meditation Teacher, and Singer-Songwriter.
Juli is a Contact Improvisation teacher, Ilan Lev Method practitioner and has studied Psychomotor-therapy and holistic dance pedagogy.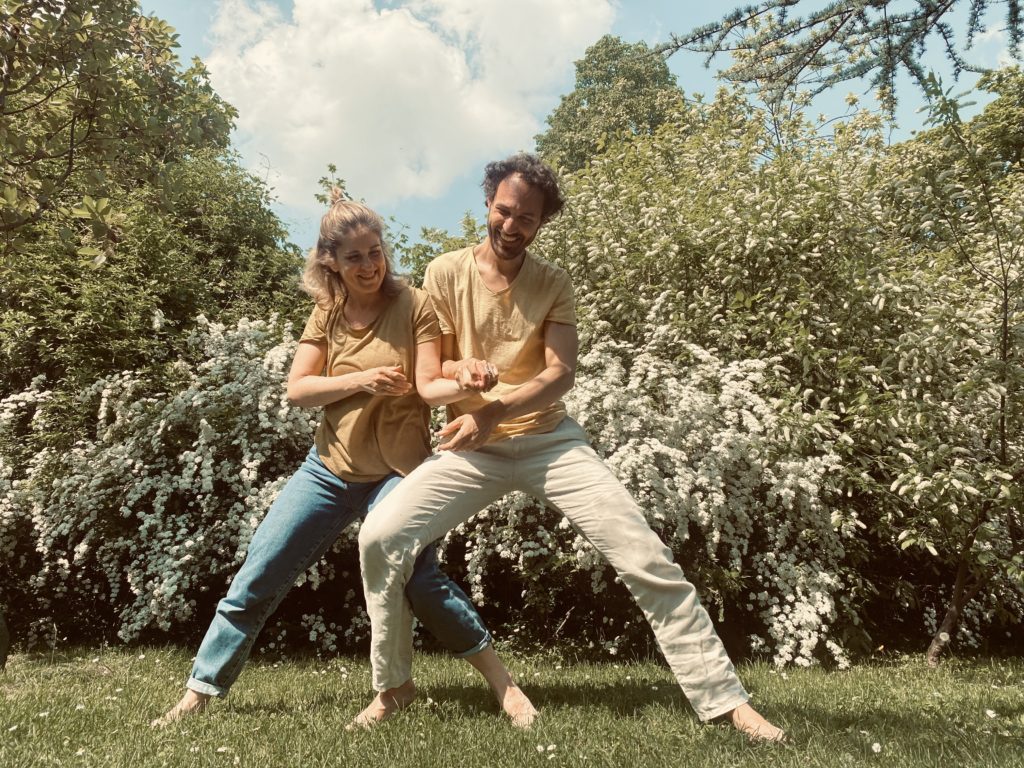 Sign Up
Please use this form to signup.
Payment
Your registration is complete, after you have signed up and transferred the workshop fee to following account:
IBAN: DE46100110012620196451
BIC /SWIFT: NTSBDEB1XXX
Bank: N26
Name: Sean Grünböck
Cancellation & Refunds
No refunds, unless we cancel the workshop. In case you cancel, you can transfer your payment to another of our workshops, if you let us know 30 days before the workshop starts. After that, transfers are only possible, if we fill your spot.
Questions?
If you have any questions feel free to contact
Sean (me@seanspeak.net / +43 650 2424022) or
Juli (gaborjuli@gmail.com / +43 677 62992933).